Oct 16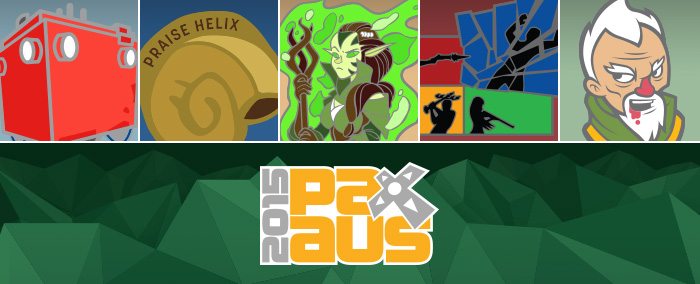 Australia Pins!
Hey Pin Pals, here's a look at what we have cooked up for PAX Australia!
PARTNER PINS
Death Squared Red & Blue Pins [SMG Studio]
Available at The SMG Studio Booth in PAX Rising
Nissa Pin [Wizards of the Coast]
Available at the Magic the Gathering Booth in Tabletop
Screencheat Logo Pin [Samurai Punk]
Available at the Samurai Punk Booth in PAX Rising
Praise Helix Pin [Twitch]
-Be one of the first 300 guests in line for Twitch Town Hall panel Friday, October 30th, 4-5PM at the Wombat Theater
-The first 50 people to play at the Twitch Corsair gaming arena will walk away with a Praise Helix pin everyday at booth #1116
-Follow us on Twitter to find out which Twitch staff member is playing treasure goblin and hoarding a bag of pins to give away. They'll be on the show floor daily at 2PM
Medius the Cannibal [Tin Man Games]
Available at the Tin Man Games Booth in PAX Rising
SHOW PINS
PAX AUS 2015 Pin Set
Available at both PAX Merch Booths.
Limited Edition PAX AUS Polygon Pin
ONLY available at the PAX Merch Lite Booth
TRADE PINS
Gabbie and Tyche Pins
Trade with Gabe and Tycho.
PA Staff Set 3
Trade with Penny Arcade staff members for their Staff Series 3 pins.
PIN QUEST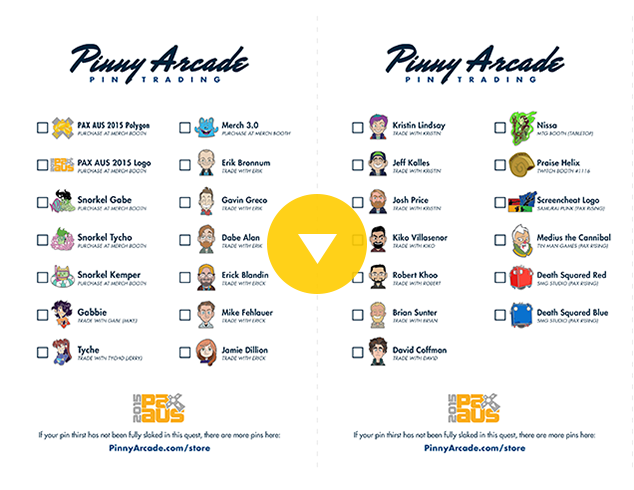 -Gabe Out
© Copyright 1998-2023 Penny Arcade, Inc.