Aug 19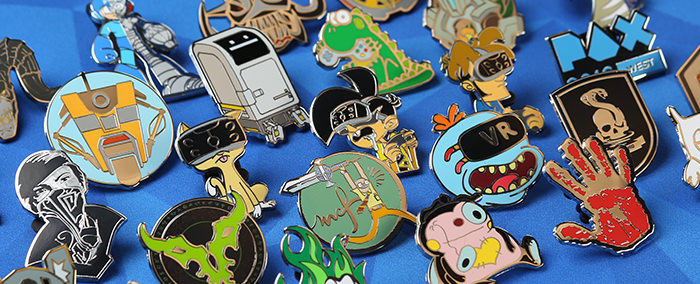 PAX West 2016 Pins!
PARTNER PINS
My God, it's full of pins!
Warlock, Titan, Hunter and Ghost Pins [Bungie]
Available at the Bungie Booth #439
Deathclaw, Emily, and Dark Brotherhood Pins [Bethesda Softworks]
Available for $10 each at the Bethesda Booth #1102, 1303
Coon and Mysterion Pins [Ubisoft]
Get a photo at the Ubisoft Booth #605 to get a pin. Pins will also be available at the South Park: The Fractured But Whole Panel on Friday, 3:00pm in Wyvern Theatre.
N7 Mass Effect and Mega Man Pins [ThinkGeek]
Available for $10 each at the ThinkGeek Booth #SKY9
Brutal Legend and Hexipal Pins [Double Fine]
Available for $15 each at the Double Fine Booth #106
Claptrap and Balloonicorn Pins [We Love Fine]
Available at the We Love Fine Booth #7411
ToeJam & Earl and Youseeks VR Pins [Adult Swim Games]
"Adult Swim Games: The Arcade (and VR!). We have Rooms 605 & 610 as one contiguous space.
-Rick and Morty Simulator: Virtual Rick-ality pin is gotten by playing the demo. Limit to 200 per day.
-ToeJam & Earl pin is gotten by taking a photo with Big Earl on the floor, and playing the demo in our room. Limit to 200 per day."

Duelyst Lyonar and Duelyst Songhai Crest Pins [Counterplay Games]
Available at the Counterplay Games Booth #6817.
Lymirth and Green Flame Fist Pins [Wizards of the Coast]
"The pins are being given away at the D&D area on the 2nd floor of the Annex. Anyone who plays in an Acquisitions Inc adventure or in a Storm King's Thunder D&D adventure will get a pin."
Legion Pin [Blizzard Entertainment]
"Booth #425 to those who demo the game."
The Behemoth Chicken Foot Pin [The Behemoth]
Available at The Behemoth Booth #1501, 1504, 1513
Owl Bear Pin [Worldbuilders]
Available at Cards Against Humanity
Mafia 223rd Pin [2K Games]
Available at the Mafia III - Creating the Open World of New Bordeaux Panel on Saturday, 1:30pm in Hydra Theatre.
Cthulhu Swim [Kris Straub]
Available at Kris Straub table in Bandland.
Construct Pin [Runic Games]
Available at Perfect World Booth #133.
Thimbleweed Park Pin [Terrible Toybox]
Available at the Terrible Toybox Booth #848 (Indie Megabooth)
Armello Logo Pin [League of Geeks]
Available for $15 (cash only) at the PAX AUS Roadshow Booth #6211.
PAX AUS Roadshow Koala Pin [Surprise Attack Games & League of Geeks]
Available at the Surprise Attack Games Booth #6312.
LRR Tugger Nutts Pin [LoadingReadyRun]
Available at the LoadingReadyRun Table in Bandland.
H1Z1 King of the Kill Pin [Daybreak Game Company]
"Head to the H1Z1: King of the Kill Box of Destiny (4th Floor, S2 Atrium Lobby), strike a winner's stance on the podium and post your photo to Twitter or Instagram. Make sure to include the hashtag #TakeYourShot and tag @H1Z1KotK! Then, be one of the first 500 participants to come to the H1Z1: King of the Kill Twitch Partner Lounge each day (Booth #1909) to play a match and show us your post to claim your official H1Z1: King of the Kill pin."
STEVe Pin [Dreamsail Games]
"Bring your Steam or PS4 Blade Ballet email receipt to Booth 752 to claim your STEVe Pinny Arcade Pin. Pins will also be given away as prizes during tournaments. Indie Megabooth 752"
Samurai Punk Pin [Samurai Punk]
Available for $15 at the Samurai Punk Booth #6214.
Quincy Pin [Bill Amend]
Available at the Bill Amend Table in Bandland.
Drawful Owl Pin [Jackbox Games]
Available at the Jackbox Stage in the WSCC International Court.
Lovebug Pin [Katie Rice]
Available at the Katie Rice Table in Bandland.
MC Frontalot Final Boss Pin [MC Frontalot]
Available at the MC Frontalot Table in Bandland.
Child's Play 2016 Pin [Child's Play Charity]
Available at the Child's Play Charity Booth #N6 (North Lobby).
SHOW PINS
PAX West 2016 Pin Set
Available at both PAX Merch Booths.
Limited Edition PAX West 2016 Pin
ONLY available at the PAX Merch Lite Booth
Merch 4.0 Pin
Available at both PAX Merch Booths.
TRADE PINS
PA Staff Set 4
Trade with Penny Arcade staff members for their Staff Series 4 pins.
Rage Gabe and Tycho Pins
Trade with Gabe (Mike) and Tycho (Jerry.)
PIN QUEST
-Gabe out
© Copyright 1998-2022 Penny Arcade, Inc.