Apr 26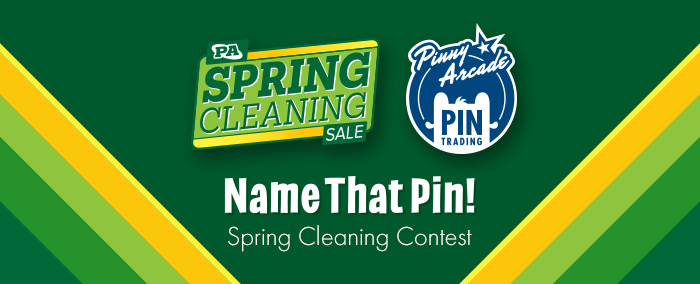 Spring Cleaning Name That Pin Contest
Are YOU ready to rummage!? The Penny Arcade Spring Cleaning Sale is almost upon us so it's time to dust off that Pin Encyclopedia for another Pinny Arcade Name That Pin Contest. We'll be posting brain teasers every day to twitter.com/pinny_arcade. Simply reply with the correct answer and follow these steps for a chance to win a pin:
Step 1: Reply to a @pinny_arcade "Name that Pin!" tweet to submit your answer.
Step 2: Follow @pinny_arcade so we can contact you if you're a winner!
Step 3: Submissions close after 60 minutes and a correct answer will be randomly selected.
Step 4: The winner will be contacted for shipping details and publicly announced within 90 minutes of the first post.
Here is a schedule breakdown for contest tweets:
Twice daily from Tuesday, April 27th - Saturday, May 1st:
3:00 pm - 4:00 pm PT
7:00 pm - 8:00 pm PT
BONUS ROUND:
Tune into the Penny Arcade Twitch channel on Friday, April 30th from 4:00 pm - 5:00 pm PT for a special Name That Pin Live Edition. Don't miss your chance to win some of the rarest Pinny Arcade pins!
Contest terms and conditions can be found here. May the odds be ever in your favor!
© Copyright 1998-2023 Penny Arcade, Inc.