One of the major complaints about the first Witcher series that has been disinterred for this second go-round is that the episodes weren't a strictly linear affair. You don't even know that's what is happening at first. I think that's one of the decisions that elevated it, that gave it a lot of texture on a second watch, but sure. There's a lot of unseemly strangeness to The Witcher and having it built right into the structure helped sell that, too. I don't think the second season is better for being a purely linear affair, but luckily it's still good. Also, the kids found a couple bread heels the consistency of kevlar plate and these seem to have sustained them during their parents' disappearance.
Hello! I am doing this post on a Tuesday and not a Monday, as it would be every other time, to emphasize something: that pre-orders for Lexcalibur II begin today, at 4pm PDT: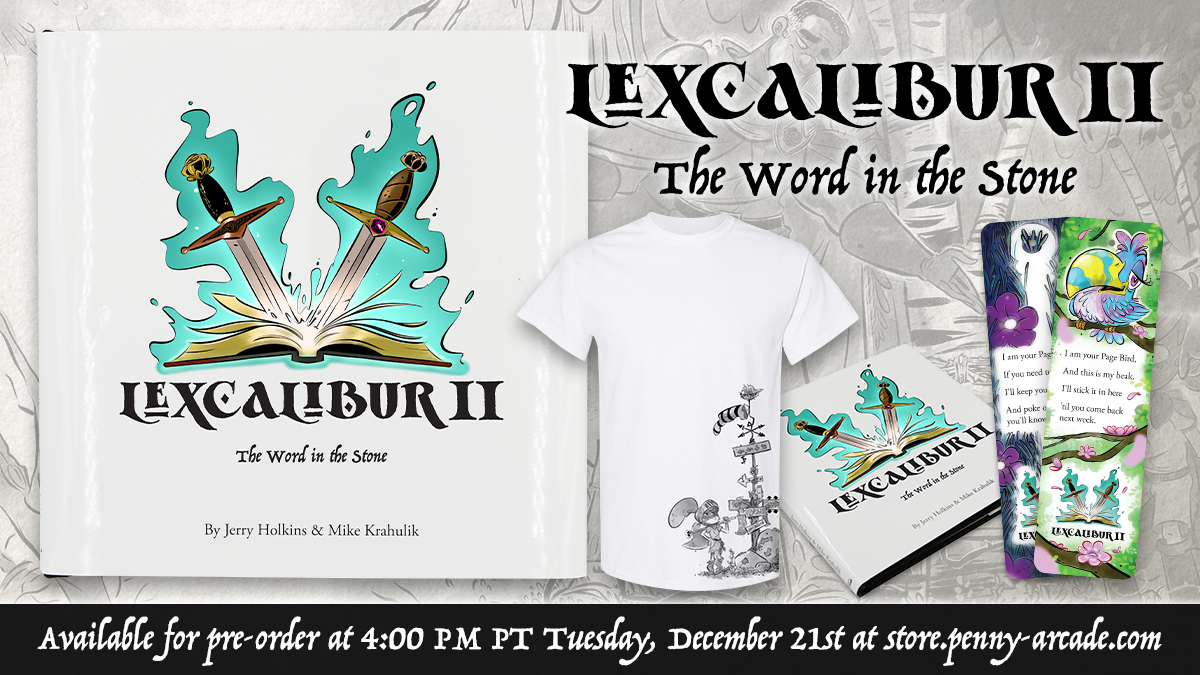 The book is off becoming real, but should you see fit to reward us with a pre-order, we shall reward you in kind - with a full-color, reversible bookmark that is not only emblazon'd with dreaming, original art but also has two more poems on it! There is also a garment! All of this becomes available at 4pm PDT. This would be an incredible time to put a few other things in your cart preemptively, to gently cushion the new products as they arrive.
I have a meeting that ends around the time the stream begins, so The Notorious EJB might have to soft-shoe for a second at noon but I'll join him forthwith for Acquisitions Intoxicated and an afternoon of tender streams, culminating in another 500pt 40k brawl between Kiko's emo servants of the false emperor and my gleaming gleaming cybernetic perfection that I definitely painted myself at 3pm PDT.
(CW)TB out.