I'm back home and resting up after my first PAX since 2020. It was a great show but holy shit, I was incredibly unprepared physically for the amount of walking I ended up doing.
Walking is not really a part of my daily routine. Generally speaking if I'm walking, it's to get somewhere I can sit down. So four days of walking around the beautiful new Summit building has left me a wreck. I had an absolute blast though and I wanted to mention some of my favorite bits.
First of all it was a real treat to have both my boys with me. They are 18 and 13 now so getting to spend as much time with them as I did this weekend was a real treat. And I don't mean that ironically even though they are both teenagers and can be a pain in the ass sometimes. It really was fun spending PAX with them.
I had a blast in both of the live play games I was a part of. It was so cool to bring Jim back to the table and get the opportunity to put a new twist on the character. No spoilers if you have not seen the show yet, but this is not exactly the Jim you know and that was a lot of fun to play. Our Vampire game was also a blast and I have to give a big shout out to our new player Luis Carazo who I think killed it at the table. I was told a number of times at this show that folks appreciated the "unexpected" way I play these games. It's possible I play this way because I have never watched any other live play series. I have not seen so much as a minute of even the most popular shows in the space. I don't actually know what is expected I guess. I'm just here to play these games with my friends.
Speaking of playing games, I've been playing a ton of Sea of Stars over the last week or so. If you are a fan of old school 16 bit era RPG's, this game is a must. It takes the look and feel of those old games, and adds a few modern elements that make it incredibly hard to put down.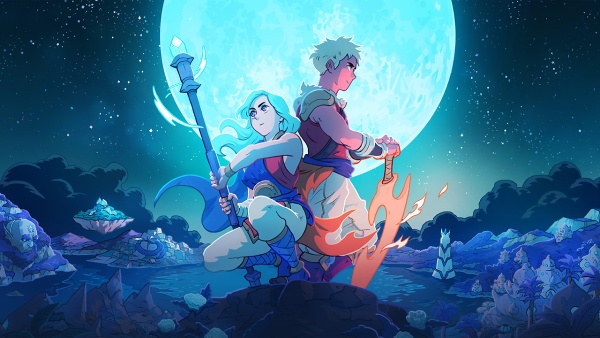 First of all, the art is beautiful. This is one of the best looking sprite games I've ever seen. Mechanically Sea of Stars is a turn based RPG but it uses real time button presses similar to the Mario and Luigi RPGs. Basically it means you can improve the efficacy of pretty much any spell, attack or block with a correctly timed button press. Tap it just as your attack hits and you'll get a two hit combo. Tap it when you're about to get hit to block extra damage. The real time elements are great and keep you engaged even during turn based battles.
The other fun part of Sea of Stars is the ridiculously good mini game called Wheels. This is a slot machine based clockwork battle game that uses collectible miniatures. I know that sounds like a lot and it kind of is but the game starts to make sense right away and after a couple rounds I could not pull myself away from the Wheels table to continue my noble quest. Essentially you are spinning something like a set of slot machine wheels in order to match symbols that will power up your minis allowing them to attack or build a defensive wall to protect your "Crown" from enemy attacks. The clockwork presentation and strategy of locking some wheels while allowing others to spin makes the game a blast.
The art, battles, mini games, puzzles and the story have kept me playing Sea of Stars even as I have given up on other new games. If you were a fan of stuff like Breath of fire or Beyond Oasis back in the day, I highly recommend you try Sea of Stars. It feels surprisingly modern while still harkening back to those classic games.

-Gabe out