Nov 11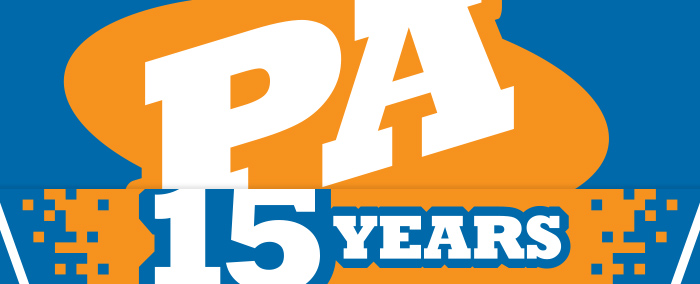 15 Years of Penny Arcade!
It's hard to believe but this month (November 18th specifically) marks Penny Arcade's 15 year anniversary. We honestly had no idea what we were doing when we started. Certainly we didn't intend for it to become what it has. When I look back at those first comics I remember those 21 year old kids living in a shitty apartment, eating Top Ramen, playing games and making comics. It seems like such a long time ago but when I read one of those old strips I remember exactly what we were doing and why we made it.
15 years is a big deal and to celebrate we are making some special stuff. All of this will go on sale in the PA store on November 18th.
First up is the limited edition 15 year anniversary pin.
This is an official Pinny Arcade pin with a limited run of just 2000 pieces. This is a dual layer pin. Think of it like two pins stuck together. In this case the year and the old Gabe and Tycho are on one layer while the new G&T are another layer on top.
Next up is the 15 Years of PA scarf.
Then we have a brand new Gabe T-Shirt that you've probably seen me wearing at PAX and stuff for a while now.
This is probably my favorite shirt we've done. We're doing a ladies version too.
We're also re-doing the classic Wombat shirt for the Ladies.
The update sports a new Wombat design and comes on a deep V neck women's shirt.
Finally I have redrawn the very first Penny Arcade strip and we are making it available as a print.

(click for big)
We've done a lot in the last 15 years. We were among the first people to create webcomics. We've used the strip to tear down and applaud countless games. We accidentally sold the rights to the comic and then got them back. We lost all our book rights and had to go to court to get them returned. We got married (not to each other) and had kids. We went from just Jerry and I to 15 full time employees. We've created PAX and Child's Play. We beat Jack Thompson. We've made video games and board games. We started a scholarship for young game makers. We invented the word Bullshot, and the Greater Internet Fuckwad Theory. We were in Time magazine's 100 most influential people. We created the Cardboard Tube Samurai, Lookouts, the New Kid, and Automata. We made podcasts and TV shows. We created Strip Search and catapulted a whole new group of web cartoonists into the spotlight. We've been threatened with lawsuits more times that I can count. We've created comic books, songs, and ads for some of the biggest games in the industry as well as some of the smallest. We've played Dungeons and Dragons on a stage in front of 2000 screaming people. We've played board games with a member of the Starship Enterprise. We've been honored by the Washington State Senate. We've become friends with many of our heroes from games and comics. We've been hugged and cursed at. We have given you unedited access to our lives and our thoughts. We've shared our struggles with depression and anxiety in the hopes of helping others. Sometimes we're funny or smart or right and rarely all three. Sometimes we feel like we're making our best work. Sometimes it's just the best .jpg we could make that day. Some days it feels like the easiest job in the world and others it feels impossible. I can't imagine doing anything else for the last 15 years and I can't think of anything I'd rather do for the next 15.

Thank You for reading PA and supporting the stuff we do.
-Gabe out
© Copyright 1998-2023 Penny Arcade, Inc.