Nov 4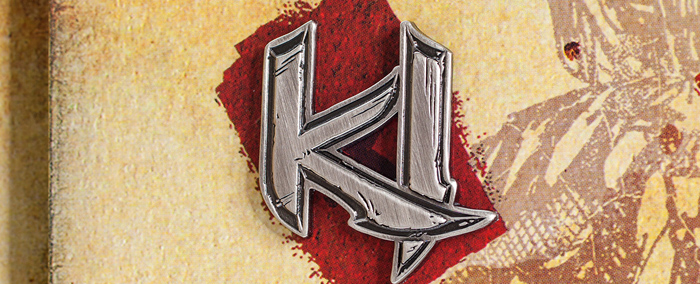 Pin Ultimate
We received the finished version of the Killer Instinct Pin Ultimate edition here in the office last week. You can do all the awesome artwork and design that you want but it's still scary waiting for that final version to come back from the manufacturer. This is one of if not the most complicated merchandise projects we've tried to build here at PA and I am so happy with the final product. When it showed up last week all of us on the pin team ran from office to office showing it off.
Here's the display case itself. You can click on all these pics to get a larger version.
You can see it is made up of three panels. The third panel folds inside so that when the case is closed it can protect your pins. We don't want them bumping up against each other and scratching. When you want to open it up that third panel folds back around and is held in place by little magnets inside the case. This way you can sit it on a shelf open almost like a book. It's a really smart design and all the credit for it goes to Kiko. I think he did an awesome job.
Here it is opened up.
You can see the background features original concept art from the game. It also has spots for all your character pins as well as each months engagement pin. The graphic design was done by Levin and again I think he just killed it.
Finally I have a couple close up shots of the two pins that come with the Pin Ultimate edition, Jago and the KI logo.
You can still pre-order your copy of the Pin Ultimate edition right here. KI might not be your thing and that's fine but this display case design is something we'll use on future Pin Ultimate editions as well.
I wanna end by saying how proud I am of the team here at PA that put this together. When a company the size of Microsoft asks you to design a special edition of a launch game for their new console you get a little nervous. We've never done anything like this before and we learned a ton. We managed to go from brainstormed sketches on a whiteboard to a really beautiful collectible in just a few months. I think we will probably go to the Olive Garden to celebrate.
-Gabe out
© Copyright 1998-2022 Penny Arcade, Inc.