Help us help kids in Childrens' Hospitals! An in person and reimagined Child's Play Charity Dinner is coming up on December 8th and you can get your tickets right here!

Here's the lowdown on the new event:

Your evening has been reimagined, leveling up the culinary experience showcasing wine and spirits that highlight local ingredients and leave the creativity up to our chefs. Be ready to explore various food and drink stations at your leisure while bidding on your favorite auction items from the palm of your hand. That's right, we are changing things up from a traditional sit down dinner to unique food stations allowing you to sip, socialize, and take bites as often as you like. This new event option with bite size cuisine that minimizes mask down time!

Don't drink or have food allergies? Don't worry we will have you covered with mocktails, gluten free and vegetarian bites as well! All ingredients and items will be clearly displayed during your culinary experience. The hard part will be the countdown until December 8, 2022.

The hot cocoa bar will make the cut along with the dare we say famous waffle bar. Some traditions are too important to skip!

Not ready to be mask to mask with so many people, don't worry we have a virtual ticket auction that will allow you to bid on our silent auction items only. While it won't be as interactive as our previous virtual events we didn't want you to miss out on the unique auction items and experiences we have to offer.

The auction is shaping up to be an incredible collection of geek and nerd adjacent items. For example check out this incredible R2 unit that is about as close to the real deal as you can get!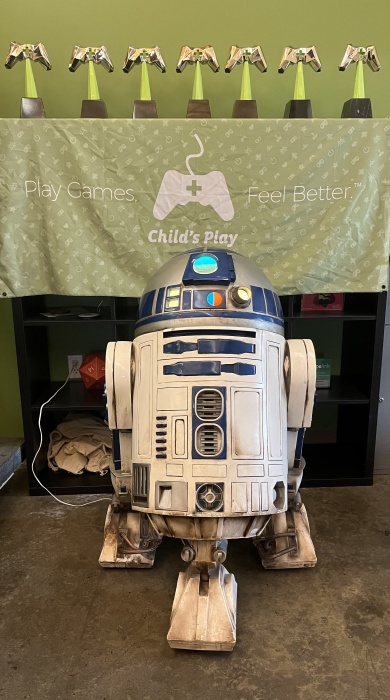 The money raised from the auction goes directly to Child's Play and helps us further our goal of improving the lives of kids in Children's Hospitals all over the world. Jerry and I started the charity in my garage back in 2003 and today I am very proud to sit on its board of directors alongside doctors and game industry leaders. In my opinion the most important thing we are doing these days would be the "childlife Gaming and Technology Specialist position we created in hospitals.

You can send all the cool technology you want to a hospital but someone needs to be there that knows how to use it. Not only that they need to have the time and knowledge to put it to really make sure the kids get helped by it. That's what our gaming and technology specialists do. We started out funding these positions but these days many of the hospitals that had these techs saw the value in them and took over the funding of the positions themselves.

I would encourage you to take a few minutes and watch the video above that talks with Max, one of the Child's Play Game techs and see just what it's all about. If you watch that video and want to support the work Child's Play is doing please consider buying tickets to the upcoming auction or visiting the website to read more about our mission.

-Gabe out