I am 100% hooked on Gran Turismo 7 in VR. I'm in there for at least a few hours every day and I can't get enough. I've played a lot of racing sims but nothing compares to the sense of speed and the fidelity of GT7.
Each time I've streamed the game someone has asked me about how it compares to iRacing. The other day I came up with an answer that I think is pretty solid. GT7 is the action movie version of a sim racer. That means that everything is cranked up to 11. It means they will err on the side of what is fun sometimes rather than what is 100% authentic. It feels exciting to play in a way that iRacing just doesn't have. With that said, iRacing is a significantly more robust simulator with a much better infrastructure for multiplayer races and leagues.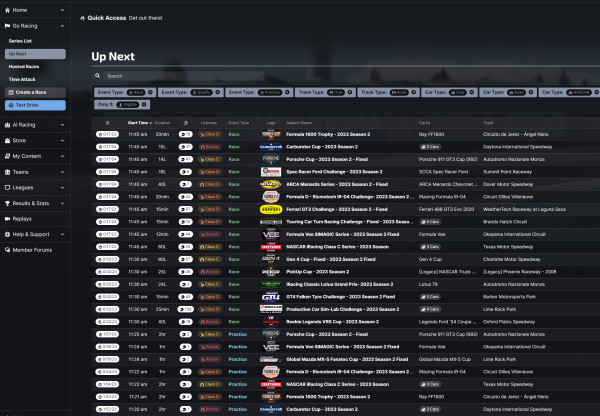 iRacing is a subscription service and that's because you get a truly ridiculous selection of daily races and official events 24/7. Whether you want dirt races, ovals, trucks, funny cars, open wheel, stock cars, GT3 or anything else you can think of, iRacing probably has the car you are looking for and the racetrack. Now, you will have to purchase those with real money though. What iRacing delivers is an absolutely authentic sim driving experience with a license system that forces new drivers to really learn how to drive in order to earn the right to race faster cars and more advanced tracks. This is a great feeling and you can tell during races that 99% of the other drivers are out there to race cleanly and improve their license level. Accidents happen and you can still get taken out in turn one or even ruin another driver's race which can be stressful to be sure. I've felt so bad after an accident that I just had to close iRacing immediately and log off. The stakes are much higher here and people take iRacing very seriously. Hell, actual race car drivers like Max Verstappen drive in iRacing events!

I have to admit that the slightly less intense take on sim racing that GT7 takes has been a nice break. They offer a rotating list of three races that change weekly. These are specific tracks and car combinations. It seems like one is generally a "fun" race, one is more serious and the third might require a pit stop and tire change. Unlike iRacing, GT7 does not trust players to do things like pit stops or formation laps on their own. These sections of races are all auto-driven for you. You will also notice that cars often "ghost" during GT7 races. If someone ahead of you wipes into a wall and then comes flying back onto the track right in front of you, your car will simply go right through them. This would have been the end of your race in iRacing. Cars who drive recklessly will also accrue penalties. These are served by your car automatically slowing and phasing out for the designated time. Other cars can and will blow right through you.

Gran Turismo asks drivers to follow basic racing etiquette and will even show you videos about how to drive correctly. Many players do attempt to treat it like an actual sim and I've had many excellent races once things settle down. This is very much a video game and some of the people on the track with you are playing it with a controller. There are still a lot of people who play racing games with the idea that the other cars are just there to help them slow down on turns. I will be the first to admit I played this way for most of my gaming life. If you actually want to be fast, you need to be smooth though and these sorts of maneuvers rarely net you a podium. More often than not these drivers will be gone after the first lap or two and the best strategy is simply to stay on the track and let everyone else fuck themselves. At least at the lower levels where I am. GT gives you a Driver Rating and a Sportsmanship Rating. As you race, if you drive cleanly and avoid hitting other drivers your ratings will go up and you'll be placed with better and better opponents. It's not perfect though and hardly compares to the licensing system present in iRacing. In general, regardless of the ratings you see in the lobby, you should expect way more "shenanigans" in Gran Turismo than in iRacing.

Both games are excellent and both are trying to do different things so it's difficult to compare them. Before iRacing I did not appreciate the art and science behind driving a car fast. iRacing as a simulator and a community introduced me to sim racing and how the hobby worked. The Penny Arcade iRacing league has been going for years now and has almost 400 members, many of which have become my friends. I've been invited to participate in celebrity races and watched my son Gabe hone his coding skills with his Gabir Motors website. iRacing is much more than a game or even a racing simulation. It is a place and a community that you can become a part of.

Gran Turismo 7 on the PSVR2 is an unparalleled experience. I was someone who got sick almost immediately in even the most simple VR experience. GT7 is so good that I have conditioned myself over the course of a month to be able to withstand VR. I started with quick sessions of just 5 or 10 minutes but as often as I could. I took Dramamine to help me cope with the queezines. Pretty soon I could do 30 minutes and then an hour would go by and I had not noticed. I streamed for two hours the other day and could have gone another hour if I didn't have to draw the comic strip that day. I tried what I had seen folks call a "meme race" with a Volkswagen Bus and ended up learning a ton about maintaining velocity and following the right line around the track. There's a truly intimidating amount of customizing you can do to the cars and I've started watching YouTube videos about how to properly tune the gear ratios on my WRX. The combination of VR and the ridiculous level of detail lavished on these vehicles makes me want more of them in my virtual garage. You can buy in-game currency with real money in GT7 but you can also earn it by playing the game and this is something iRacing can't compete with. There is a sort of "campaign" that will guide you through various races across the world and introduce you to different car manufacturers along with their history. You can jump into AI races to earn gold or complete in all kinds of fun mini challenges. GT7 is a video game and a very good one. I follow a lot of sim racing and VR subreddits these days and it's almost comical how often I see people posting a picture of a racing rig with a brand new wheel and pedals only to blame it all on GT7 and the PSVR2.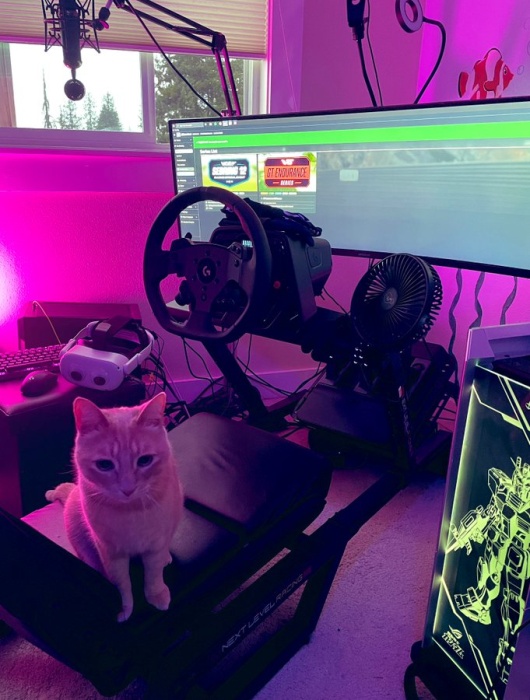 I don't know if that helps anyone out there. "Both are awesome" isn't the best when you're trying to make a decision. I think a lot of it will come down to what you already own. Have a PS5 already? Don't fucking sleep on Gran Turismo in VR. Got a low end to a decent PC? Get a Wheel and give iRacing a go. If you like it you can grab a Quest 2 VR headset and plug it into your PC to make it even better which is what I do now. I honestly can't imagine going back to racing on a screen again. No matter how you get into sim racing be warned, it is a slippery slope to be sure. It's hard not to want a full rig once you get into it and pretty soon you want a wheel and pedals that feel more like the real thing. I have not reached the final stage yet that involves motion simulation but it's there for those who want it.

That ended up being way longer than I anticipated. I'm literally going to go play GT7 in VR now.

-Gabe out