The folks at Logitech sent me a very nice package recently that included their brand new Pro Racing wheel and Pro Racing Pedals. I've only had a little bit of time to play with them both and tonight's Penny Arcade League race will be the first time I use them in an actual event.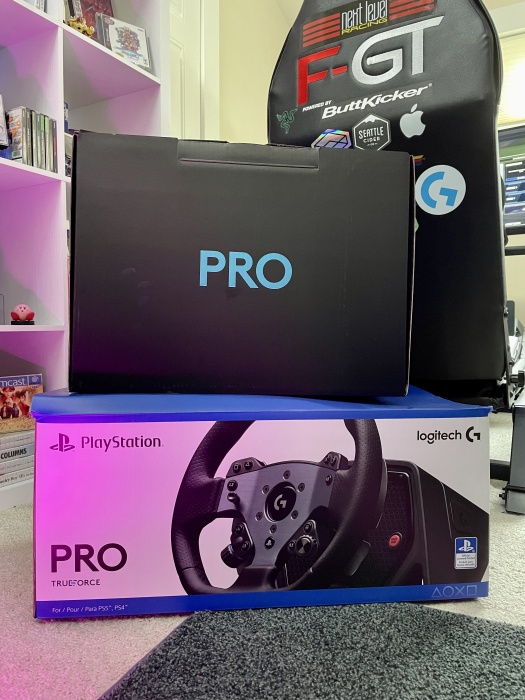 The major upgrade for me with this wheel is the switch from a belt driven unit to one that has a direct drive system. This means that there is literally a motor on the opposite end of your wheel that is applying serious amounts of force. The result is that you can really "feel" every inch of the track and how the car reacts to the road.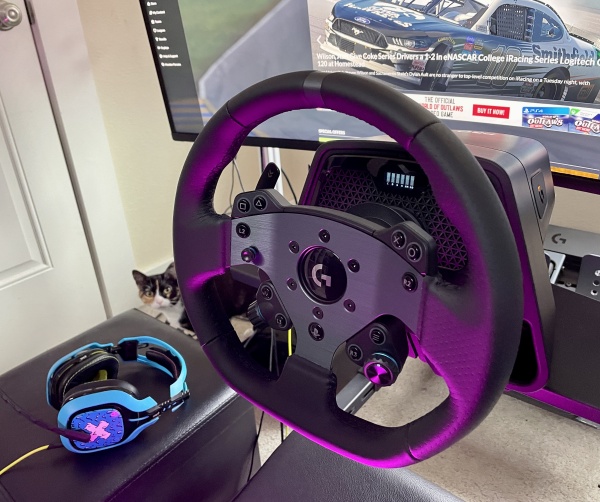 This is my first experience with any sort of direct drive unit and I cannot believe how much it improves the immersion when sim racing. When your tire drops into a groove on the track you can really feel the car pull that direction. You honestly need to fight against the car on hard turns and my arms were sore after a few laps! I love it though because of how much more information about the race you get through the wheel now.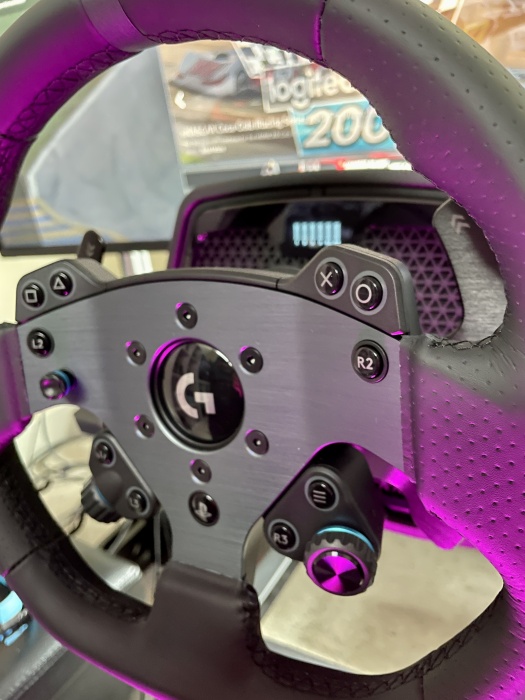 The pedals also got a big upgrade from the ones that came with my old wheel. These new ones incorporate load cell technology which I was already familiar with. In my opinion upgrading your pedals to load cell is the first step you should take when thinking about giving your rig a facelift. They offer much more resistance and allow for more precision when driving, especially when it comes to braking. Again it just feels more like a real car and less like a video game.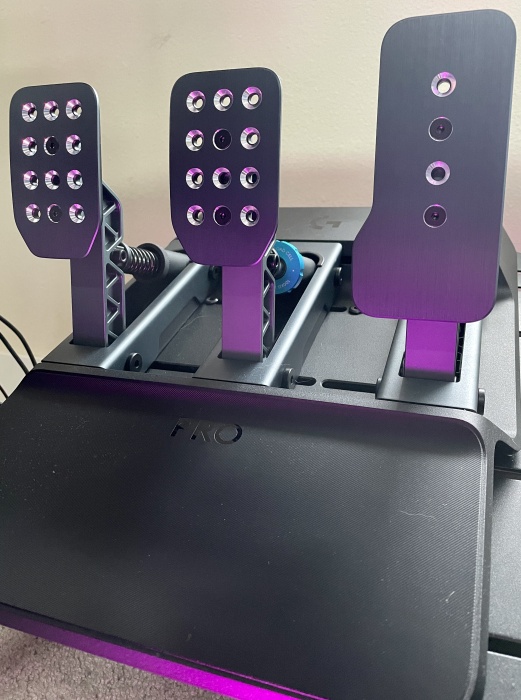 Overall, I'm super impressed with the build quality of both units. The new wheel housing is very heavy and actually pretty big. So big in fact that it required some adjustments to my rig just so I could see my monitor over it. With that said, once it's screwed in and in position the weight and gorgeous finish of the wheel make you feel like you're seated in a luxury car. Nothing here feels cheap and that's a good thing because if you're not Mike Racecar the wheel will set you back $999 and the pedals go for $350. These are definitely high end sim racing components for people who are serious about this kind of stuff. Logitech still makes great entry level equipment to get you started in the hobby and I was very happy using it for years. This Pro Wheel and Pedal combo is for folks who have already dipped their toe in the hobby and now they are ready to dive in.
I'm very grateful to Logitech for the hook up, they have been supporting my "racing" since the very beginning and I can't thank them enough. I gotta say either one of these pieces would be a great addition to your rig, and the two of them together make for an incredible experience. I can't wait to hit the tack tonight and really put them to the test. I'll be streaming the Penny Arcade league race if you want to join me. The Pit Crew opens up at 7:30PT over on the PA Twtich come watch me wrestle this beautiful beast of wheel and see if my puny arms are up to the challenge.

-Gabe out