PAX South is coming up next week and I'm getting excited. Last year at this time I had just ruptured some of the important plumbing inside my human frame. I ended up zipping around PAX South on a little scooter while the carbon fiber patch they sewed into my guts took root. This year I'm happy to announce that I'll be walking around on my legs like I usually do.
So that's cool.
Anyway!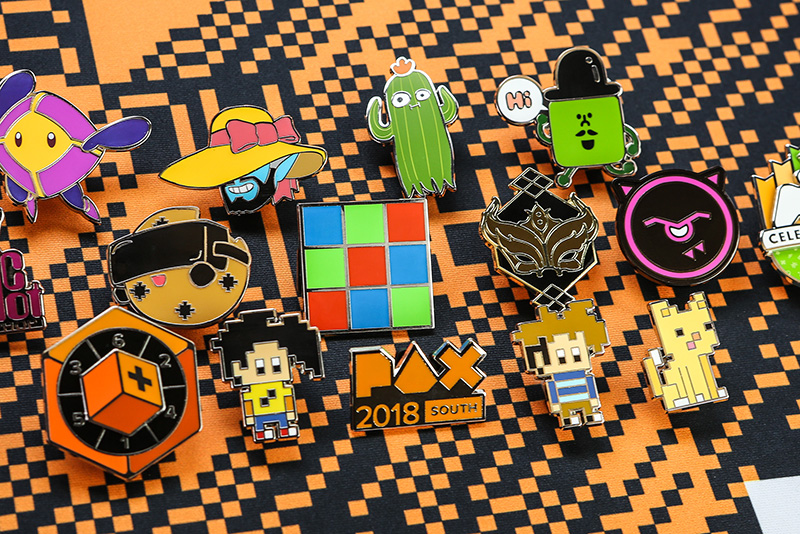 PARTNER PINS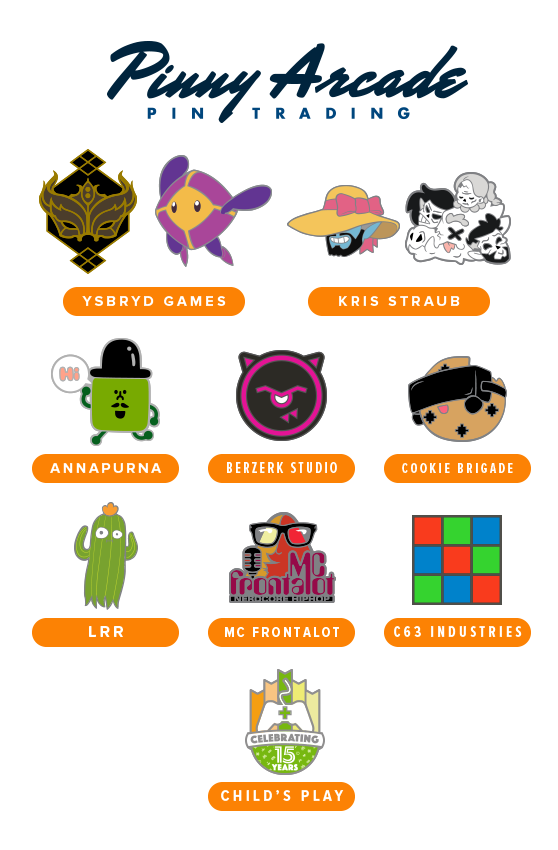 Masquerada – The Heart & Masquerada – Oli [Ysbryd Games Worldwide Limited]
Available for purchase at the Ysbryd Games Booth #11016; in addition, a limit of 50 pins will be given out each day after completing a game demo of Masquerada.
Sunhat K'thriss & The "C" Team TPK [Kris Straub]
Available for purchase at the Kris Straub table in Bandland.
Wattam [Annapurna Interactive]
Available at the Annapurna Interactive Booth #11040.
Just Shapes & Beats [Berzerk Studio]
Available for purchase at the Just Shapes & Beats Booth #10259.
VR Chippy [Cookie Brigade]
Follow @cookie_brigade to find the time and place of where you can purchase a pin from them each day of the show.
Cactifer [LoadingReadyRun]
Available for purchase at the LoadingReadyRun table in Bandland.
Nerdcore Hip Hop [MC Frontalot]
Available for purchase at the MC Frontalot table in Bandland.
Pixel [C63 Industries]
C63 Industries is celebrating their 10th time showcasing Pixel: ru² at PAX and will be selling the pins at an exclusive PAX South 2018 price of $10. You can also win one along with other prizes provided by Corsair by being one of the highest scores on the daily leaderboard competition.
15 Year Anniversary [Child's Play]
Available for purchase at the Child'a Play Booth #11696.
SHOW PINS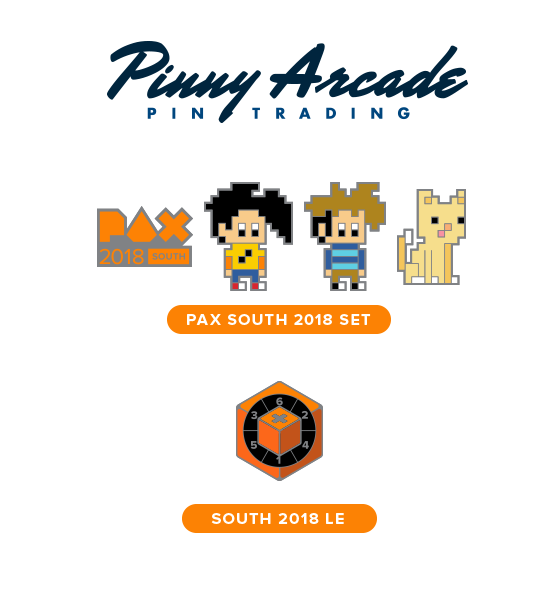 PAX South 2018 Pin Set
Available at both PAX Merch Booths.
Limited Edition PAX South 2018 Pin
ONLY available at the PAX Merch Lite Booth
PIN QUEST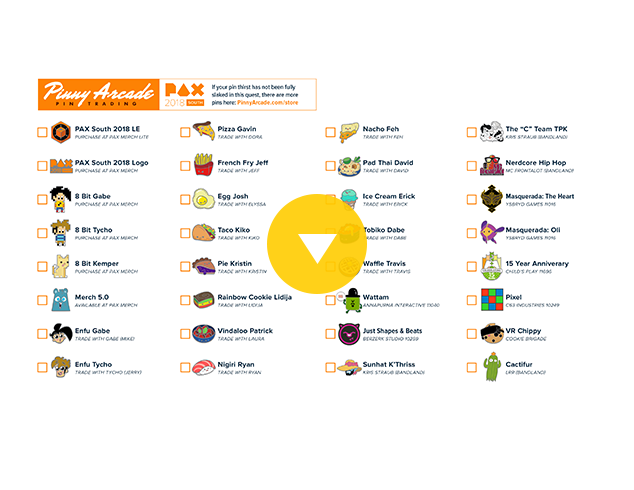 I also happen to be in possession of our Merch banner which I will share with you all. This year's PAX design theme is called the Glitch, and you can see it here in PAX South Orange. Personally this is my favorite of the PAX designs we've had and I can't wait to see it across all the other shows. PAX Unplugged purple should be especially rad.
(Click for a large version)
See you next week!
-Gabe out