I can't explain how I end up falling into these hobbies or why I tend to get sucked in by them. I watched Ford vs. Ferrari on a plane ride and became obsessed with motorsports and eventually sim racing. That was over a year ago now and I still race every week with the Penny Arcade iRacing league. I've met so many cool people and had so much fun thanks to sim racing that it is hard for me to imagine the last year without it. It really was just dumb luck that I stumbled into it and my most recent obsession Gunpla is no different. 
Sony said they were going to close the Vita store so I busted out my old system to make sure I had everything on there I wanted. I ended up having a lot of fun with it and got back into a few old games. I asked people to share their favorite Vita games with me on Twitter and since I thought the store was closing I picked up a few games that were highly recommended but I had never heard of. One of them was Mobile Suit Gundam Extreme Vs. Force which I grabbed even though I had absolutely zero experience with Gundam. 
The game was actually really fun. Even as someone who didn't know a thing about the setting, I was having a good time piloting these big ass robots around. So my next thought was, "maybe I should figure out what Gundam is." and that is how I ended up watching the original animated series that aired back in the late 70's. I was hooked from the very first episode. Even 40 years later I was 100% invested in Amuro and the story of White Base. I shotgunned the old episodes while investigating more modern series as well. I was talking about the fact that I was getting into Gundam on a stream one day when someone in chat mentioned that the model kits are built entirely without glue. Now I was no Gundam fan but I am a nerd and I had obviously seen a few of those kits before. I honest to God thought this comment in the chat was a joke. I built airplane models as a kid and they used super glue. The only snap together models I was familiar with were the Snap-Tite kits from Revell which I think we can all agree are a fucking joke. 
After the stream I could not shake the idea that maybe it wasn't a joke. Did those models really go together without glue? I went to Google and that is how I discovered Gunpla. Pretty soon Noah and I built our first beginner level kit and now I'm hooked. I've been using my 1:30 to 3PT stream on Tuesdays to build kits and just like with sim racing I seem to have inspired others to come along for the ride with me. At least this one is less expensive than sim racing! These kits start around $10 and it's not hard to find really cool ones for around $20.  They come in a variety of levels that determine their overall difficulty size and detail as well as price. I am currently building models from the High Grade category which is just one step up from beginner. Next I could move to Real Grade which are the same size but more intricate. There are also Master Grade kits which are a bit bigger and more detailed. Then you have Perfect Grade which are super articulated and often come with LED lights and other doodads. They also have a Super Deformed grade which look sort of like very detailed POP figures that you build.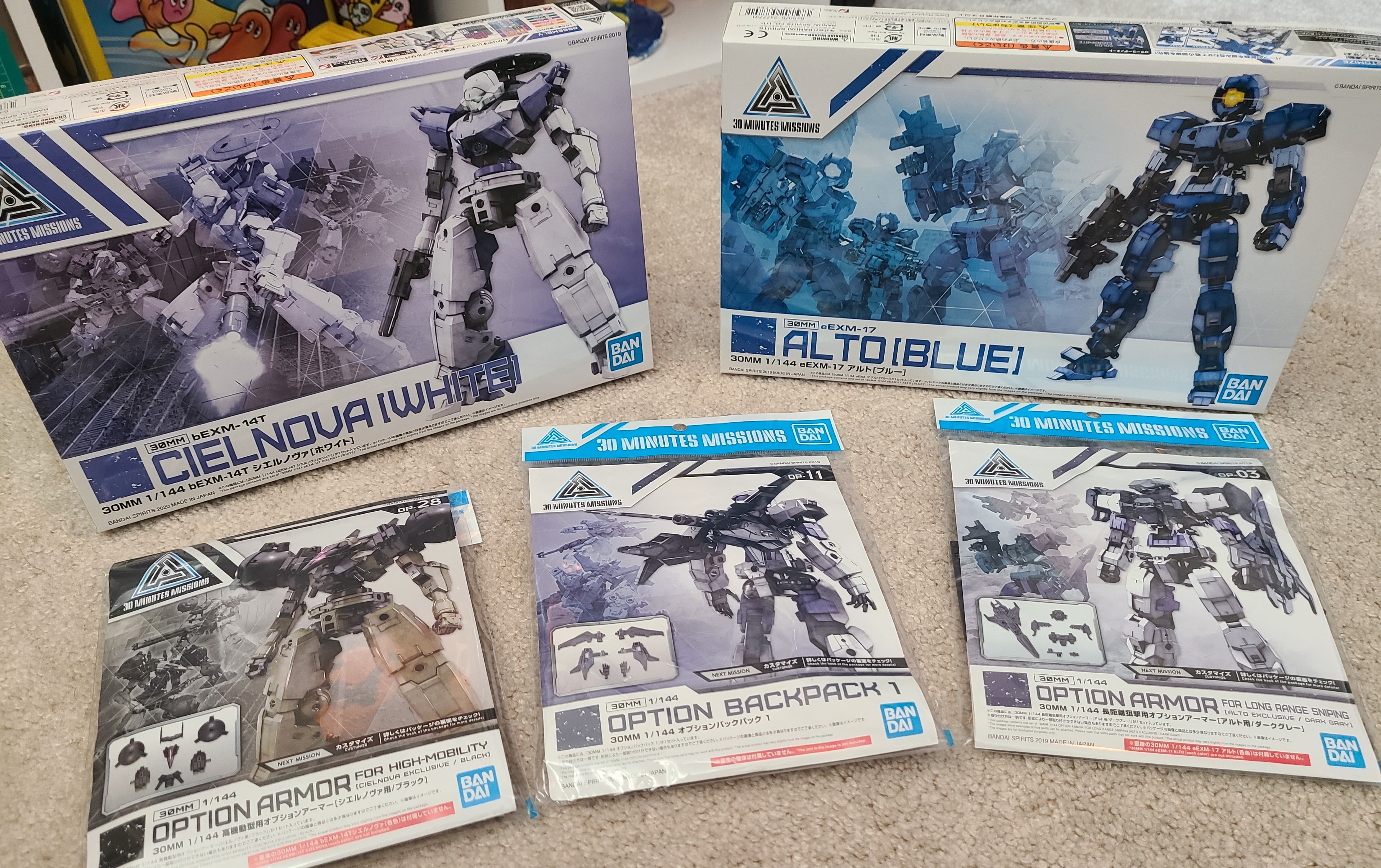 I've only tackled the HG kits for now but I plan on moving up the ladder when I feel ready. On tomorrow's stream I'll be trying out a different line of models actually called 30 Minute Missions. These are still from Bandai just like the Gundam kits but they are not based on any cartoons. These models are designed to be built fast and customized with different parts you purchase in add on kits. They offer a core line up of robots in various colors as well as tons of accessory packs with different armor and weapons. We will be building the Alto tomorrow as Noah already claimed the Cielnova for himself. Noah had so much fun building it he used his birthday money to order himself another one from Gundam Planet. Turns out they are PA readers and reached out to let me know they just got a couple brand new arrivals in the 30 minute mission line that they tossed in the box for us! So I'll probably be showing those off on stream as well once that package arrives. I'd also like to mention that I made some purchases from Newtype and they are going to give away this awesome HG kit of the classic Gundam to a lucky winner during my Gunpla stream tomorrow. I'll just be picking someone at random during the show so be sure and tune in. In my limited experience so far the specialized online retailers seem to have much better prices on kits than Amazon does and they are small family operations which is nice. I actually just built that exact same kit over the weekend and loved it! Here is mine: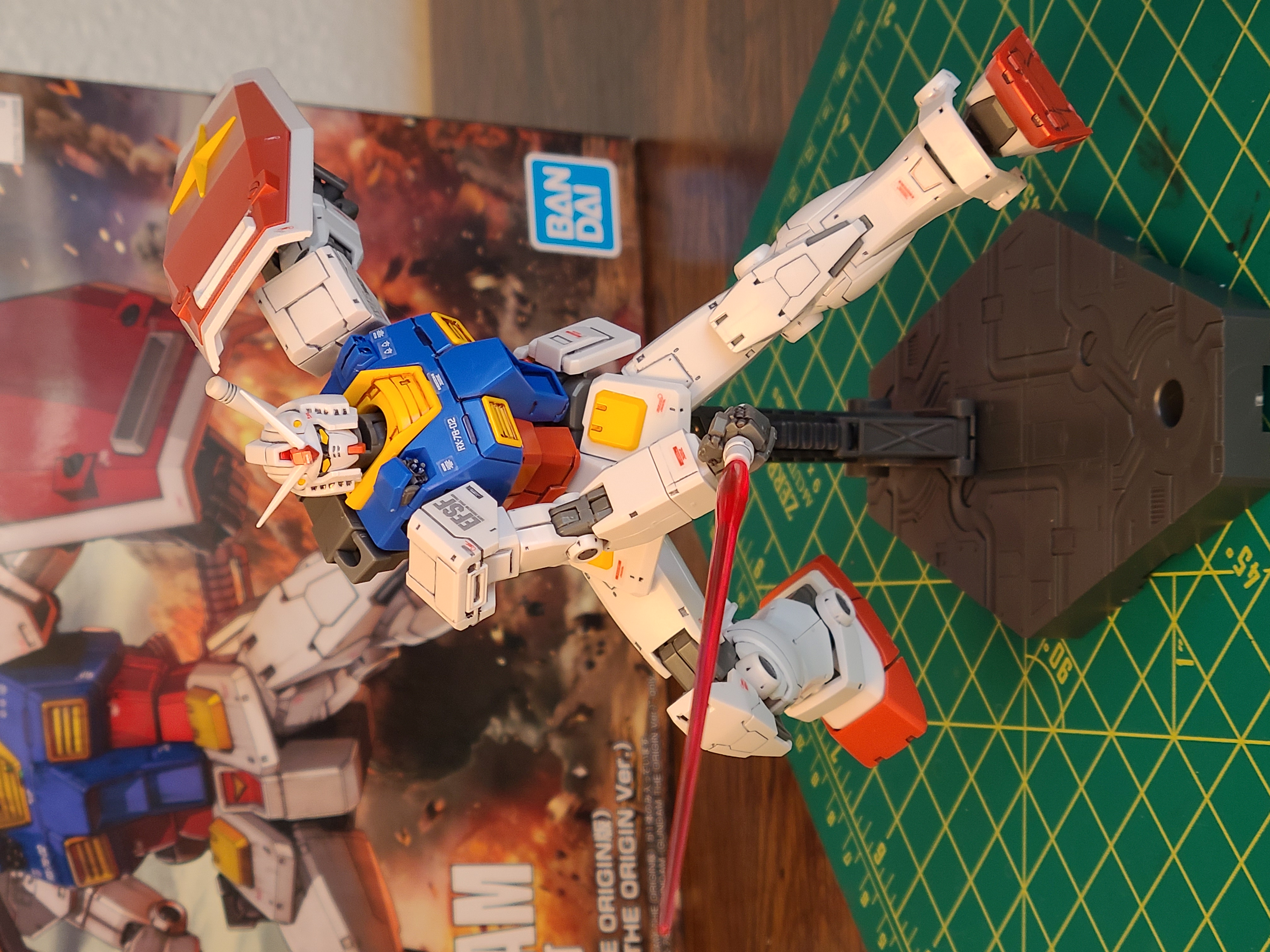 Thanks to everyone offering tips and tricks on Gunpla as well as suggestions on what series I should watch next. I just wrapped up Gundam Unicorn over on Netflix and that led to me having to buy a couple more models. You absolutely don't have to watch the shows to get into Gunpla but it doesn't hurt. Buying the ones you think look cool and then having fun building them is plenty. There is a reason this brand has lasted for over 40 years though and I'm starting to understand why they build life size versions of these things in Japan. If this hobby is an iceberg I am just exploring the tip and I'm already enamored with it. Feel free to join me on stream tomorrow if you're wondering what it's all about. 
-Gabe out