My obsession with Gunpla led me to explore the Premium Bandai website. This is essentially a store where Bandai sells special limited edition versions of all their goodies. I went there looking for special edition Gundam kits and ended up getting exposed to the full force of their brand firehose. I managed to stay focused for a while. I bought a couple of the Gundam Hathaway kits and I thought I was done but then I found myself exploring their various Digimon offerings. The virtual pet craze missed me in the 90's mostly because I worked at Toys R Us back then. Having witnessed grown women fist fighting over the last Tamagotchi we had in the store, I decided to skip that particular craze. Almost 30 years later I thought maybe I was ready to see what the fuss was all about.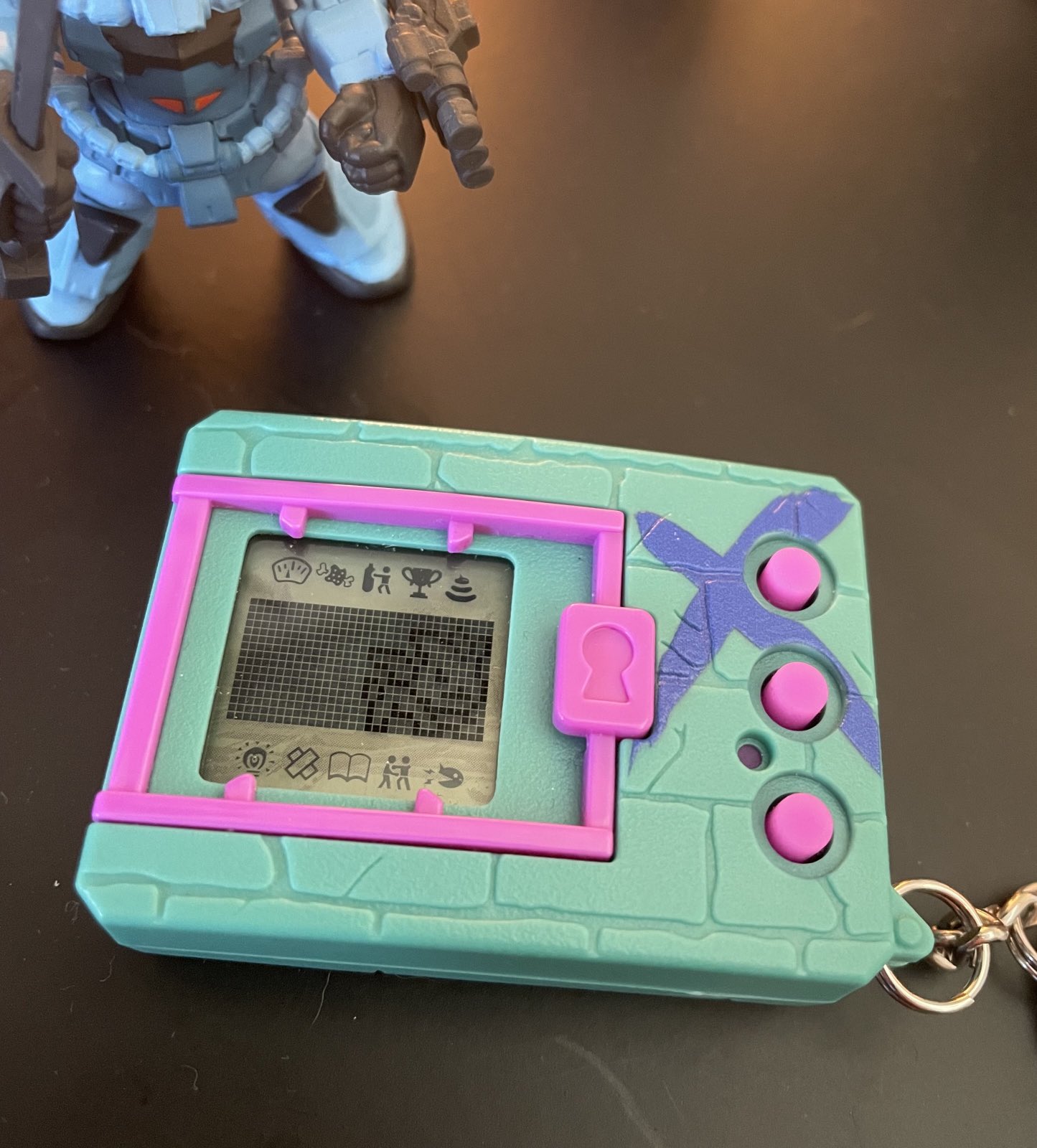 I decided to pick up a Digimon X for $20 since it was the newest version having just been released this year. Someone else might have just made this an app now that you run on your phone but I have to say I appreciate their dedication to keeping this a stand alone device. The old school LCD screen is novel and having to carry around this little plastic box reinforces the idea that this really is a little creature. The "gameplay" is pretty limited but not uninteresting. You need to feed it and clean up it's shit but beyond that you can also train it and take it out on adventures that will have you battling and gaining XP. This all happens with button presses and timing based mini games that are easy to play while you're watching TV or some other game is loading. Keeping it alive by managing it's needs and training it will lead to various evolutions and should you find another person with one you can attach your devices together and battle each other. As the sort of person who always has to be doing something (do you also have to read the cereal box?), a Digimon X is a fun little diversion. 
I mentioned Digimon on Twitter and a number of people told me that the new TCG was excellent. I wasn't in the market for a new card game but I grabbed the tutorial app on my iPad and gave it a try. It's not a long app, just enough to teach you the game without anything else but I was so impressed I had to pick up a couple physical starter decks. It's a smart game that's a ton of fun to play but there are two milkshakes that will bring all the boys to this yard. The first is their "Memory" system that replaces a traditional mana pool. Instead of each player having individual energy, both players share a memory gauge that gets pushed back and forth. Spending a lot of memory on your turn will push the memory gauge deep into your opponents territory giving them more memory to spend on their turn. It makes for really fun decision making where you want to spend just enough memory to tick the gauge over to your opponent's turn without giving them more than you need to.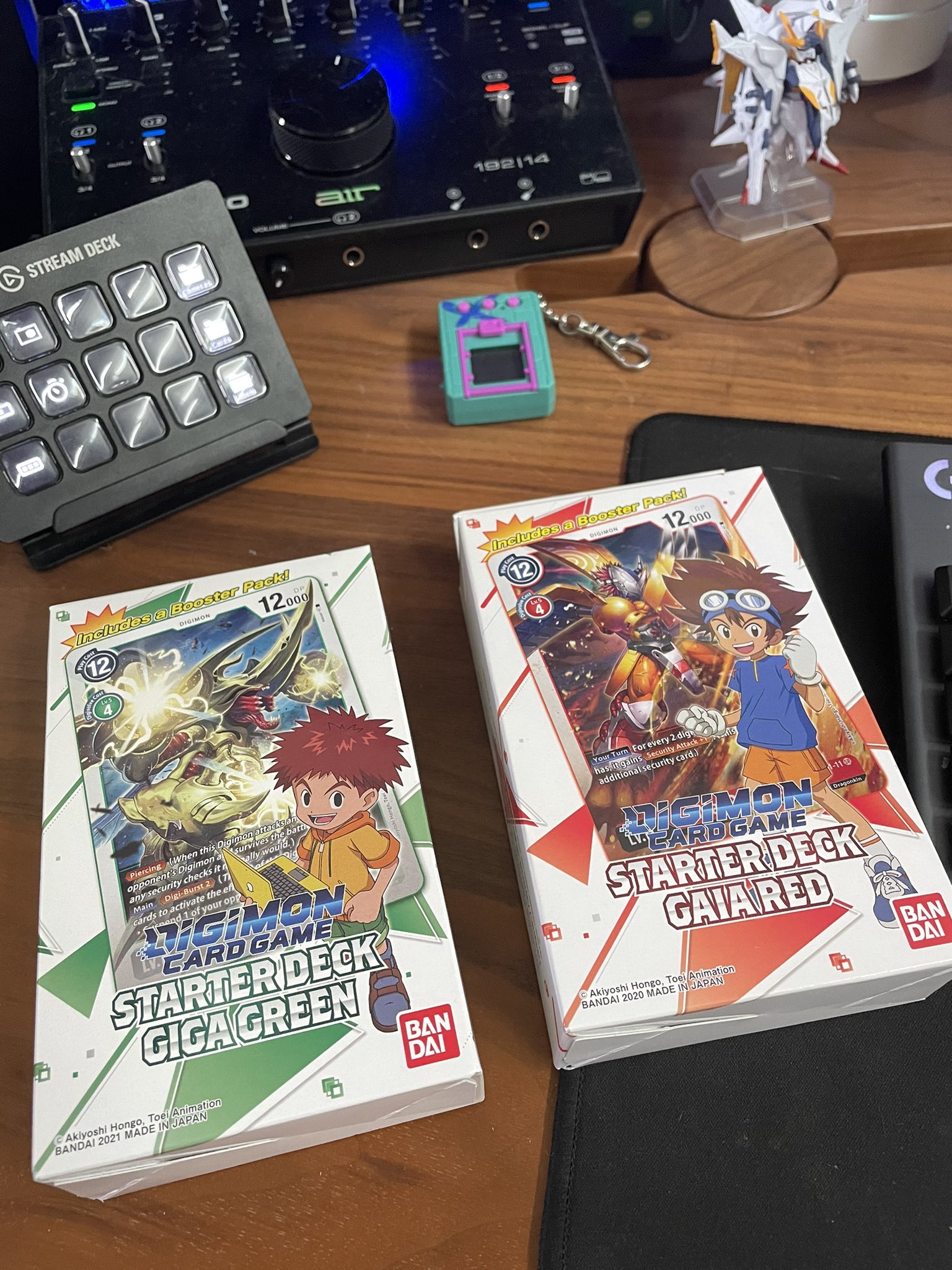 The other system I love is the Security Stack. This is a pile of five cards drawn from your deck at the start of the game. These cards function as a sort of shield and when your opponent attacks you lose one. If you don't have any left and you get attacked then it is game over for you. The cool thing is that cards can have keywords that get activated when they are attacked in the Security Stack. You also get an egg deck that lets you hatch and evolve Digimon in a safe zone on the play field for zero memory cost and... I could go on and on about how cool it is.  From what I've been told, the Digimon TCG can be difficult to track down in the US but if you have a game store near you I highly recommend taking a look. It's also worth grabbing the tutorial app just to get a taste. 
Now I'm just anxiously awaiting news that Bandai will be bringing their new line of Digi bracelets to the US. 
-Gabe out