The last time I played with a slot car track would have been in the late 80's and I guess I had not thought much about them since. It turns out that slot car technology has progressed significantly in the past 30 years. I was on the hunt for a family Christmas present and I was specifically looking for something that everyone would like. The Drive to Survive series made F1 super popular at my house to the point that we were watching qualifying and races every weekend they were on. For some reason I thought we all might get a kick out of a slot car track and I decided to investigate what they looked like in the year 2021. It turns out they look really cool. 
If you are old like me you might remember that slot car tracks back in the day allowed just one car per track. These were analog systems and today they offer digital slot car sets that let you race multiple cars on the same track and even change lanes. Rather than each controller being linked to a track, it is instead linked to a car. I was vaguely aware of this technology only because my Dad loves model trains and I remember when digital train sets came out letting you run multiple engines on the same track. It's the same idea here only much faster!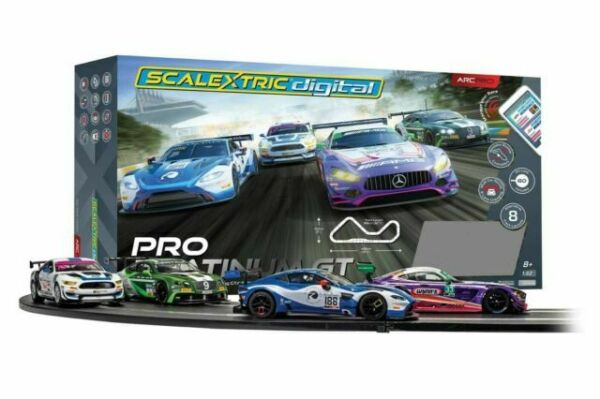 I decided to buy the Scalextric Pro Platinum GT set because it was a digital set and because it came with four cars, one for each of us. I will say that by the time I decided to purchase the set it was sold out essentially everywhere I looked. I ended up paying a bit more than I should have to get it on eBay such was my desire for intense slot car action on Christmas day. 
It turns out slot cars have gotten WAY WAY cooler since I last played with a set sometime back in the late 80's! Who knew!? pic.twitter.com/xNoFFlBvfO

— Gabe (@cwgabriel) December 26, 2021
The set I picked up came with four cars, a bunch of track including two of the lane change sections, 4 wireless controllers, a few trestles for creating some elevation and a little stand to hold a tablet if you want to use the ScalexTric app to spice things up. 
I'll start with the track which went together very easily. Taking it apart is a bit more involved but not so onerous that we haven't done it every single day we've had it. The instructions come with a bunch of different track configurations and we've tried a new one every day since Christmas.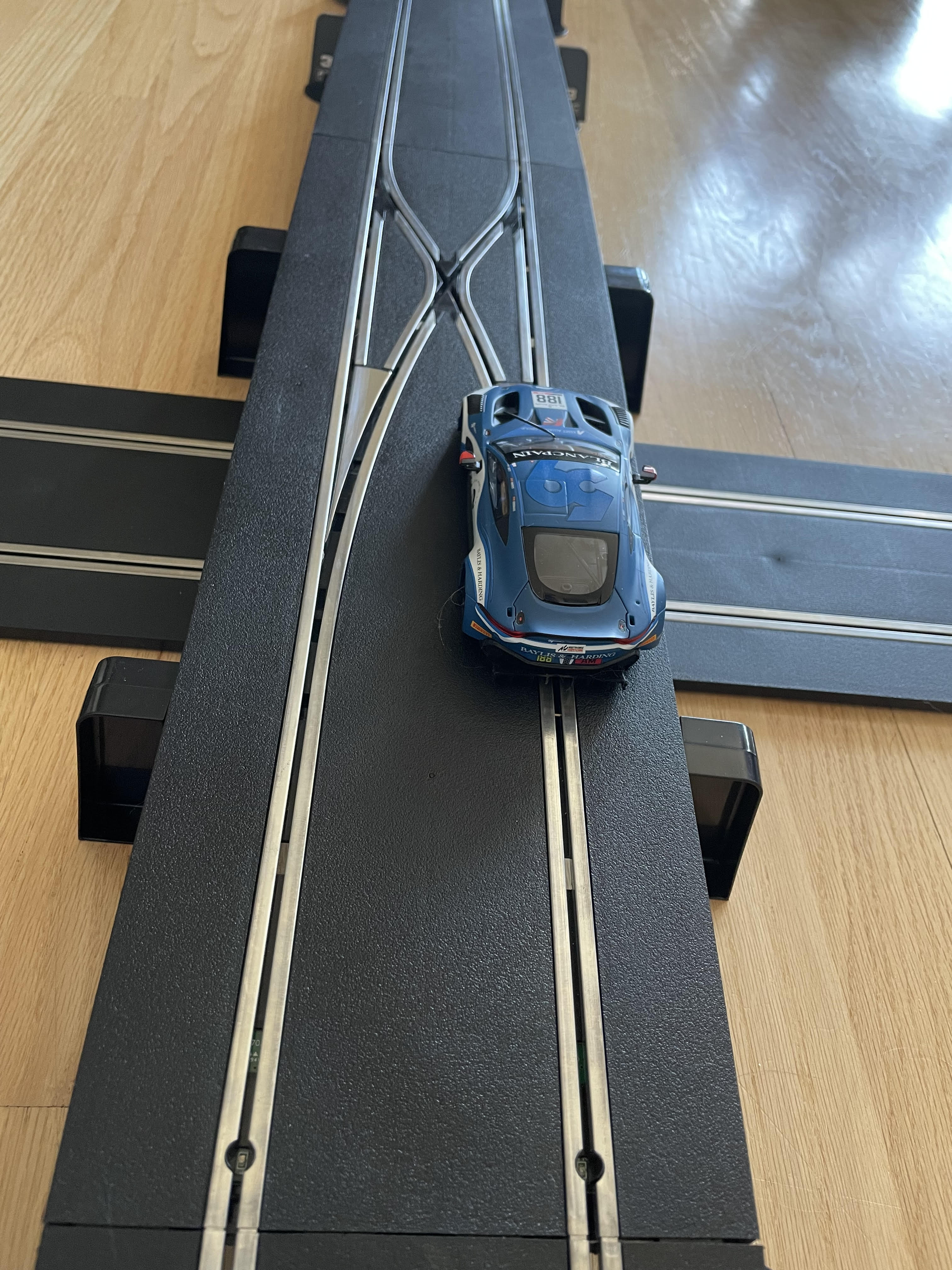 Because this is a digital set it includes two lane change pieces that allow the cars to switch tracks. These are long straights with little sensors embedded at their start. When you are approaching one of these pieces you just hold down the lane change button on your controller. Just having a couple of these in the mix makes things super exciting! 
Some people were asking about lane changing on the new slot car set. Here's a look at me cutting right in front of ?@karajanae? with bonus Maui the cat in the background! We have 2 of these lane change sections in the track. pic.twitter.com/QfptoHECwS

— Gabe (@cwgabriel) December 29, 2021
As I mentioned the controllers here are all wireless and while the set comes with four, it will accommodate up to six. The controller has a trigger which works like you expect but it also has two other buttons. One is for lane changes like I mentioned earlier and the other is your brake. The controller also has rumble functionality that comes into play when it's synced up with the Scalextric app. Overall these feel very solid and work great.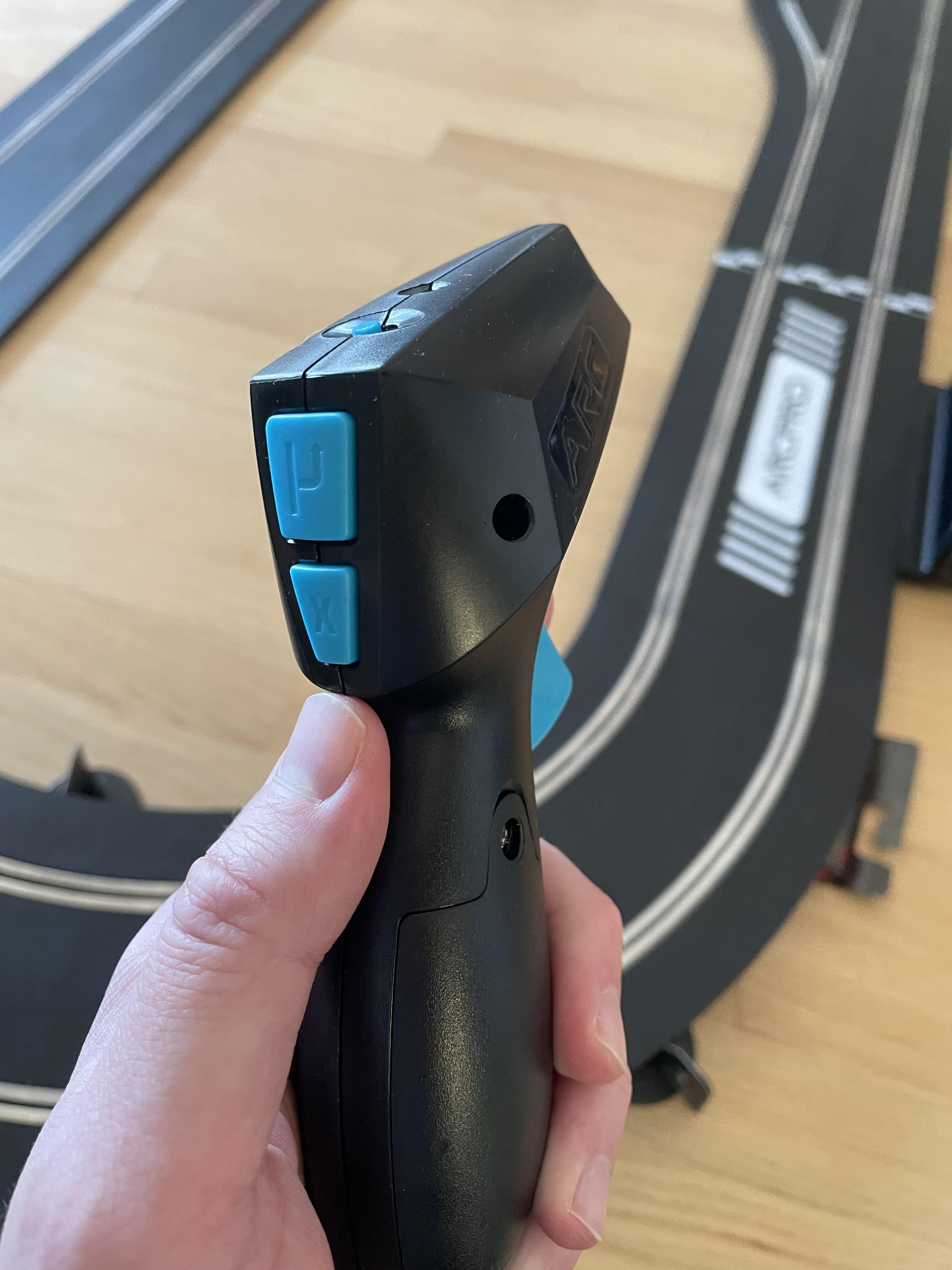 The cars in this particular set were an assortment of GT models. These are all based on real cars and the detail is impressive. Each one is essentially two pieces, a base plate with the tires, motor etc and then a single plastic chassis. These do technically have rear wings but they did not last long in my experience. The wings are designed to snap on and off but they popped off on accident so often that eventually they just stayed off. The underside of the car has a little disc that rotates independently from the car. It has the metal brushes that make contact with the track and give the car it's power as well as a rudder that extends out and fits into the slot of the track. This is the device that keeps your car in its lane and it's located up at the front of the car which means the rear is free to swing around. This allows for you to pull off some really fun drifts around your track!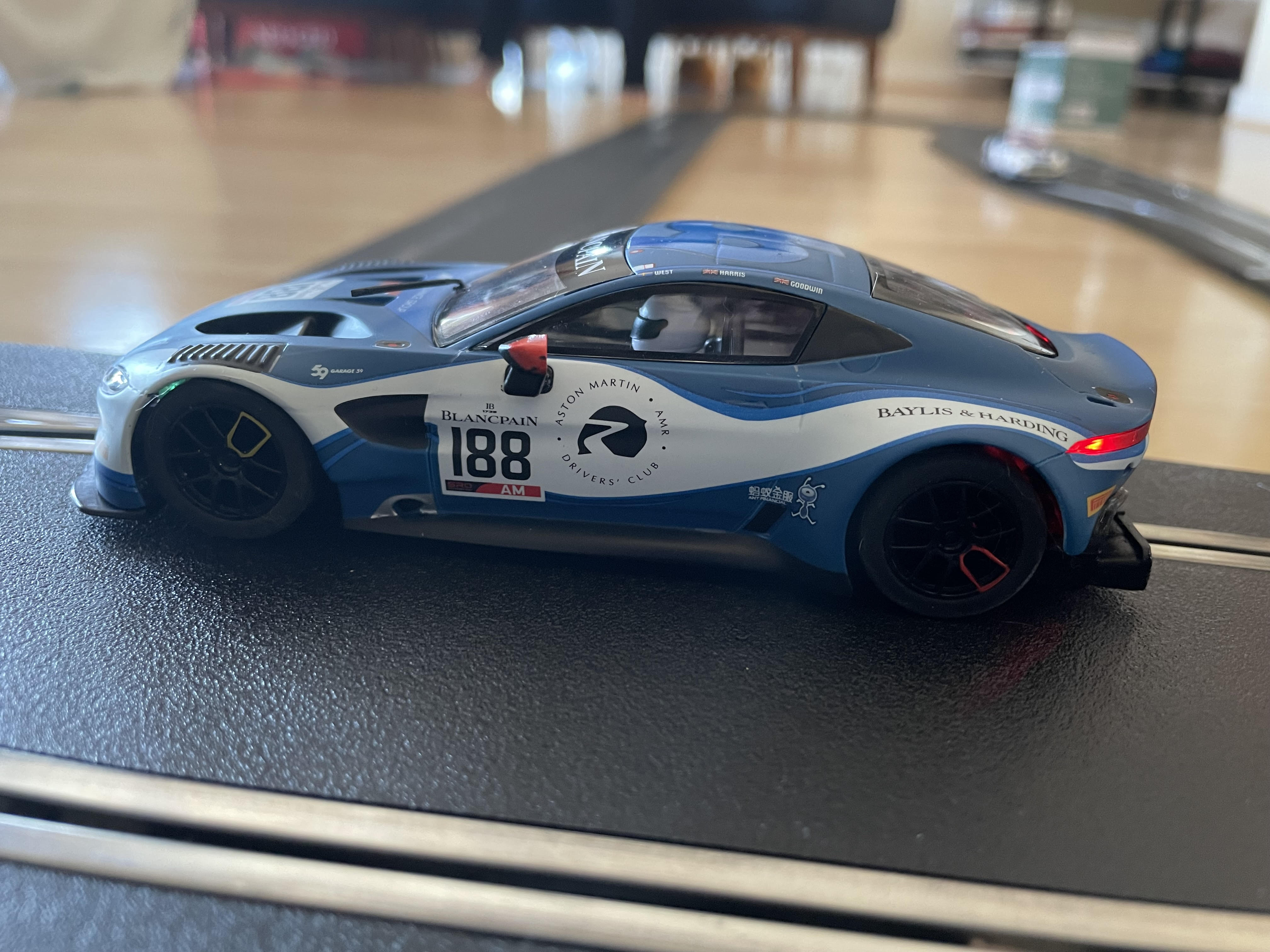 The cars themselves are super quick and learning how to control them around a given track is really the fun of the experience here. You can't just go full throttle or you'll launch yourself off the first turn. You really need to get a feel for the track and where you can speed up and where you need to ease off. They are a blast to drive and it might be our imagination but we are certain that each one seems to handle a little differently. I will mention here one of the problems we had with the set. During a race Kara's car the purple Mercedes literally started smoking and then died on us. I'm not sure if it was something we did or not but I've reached out to Scalextric about getting a replacement or a repair. The other 3 cars have seen so much use that we've had to change out the batteries in the controllers once already those cars are all doing great. I've also already purchased a couple extra cars which seem to run between $30 and $70 depending on the model.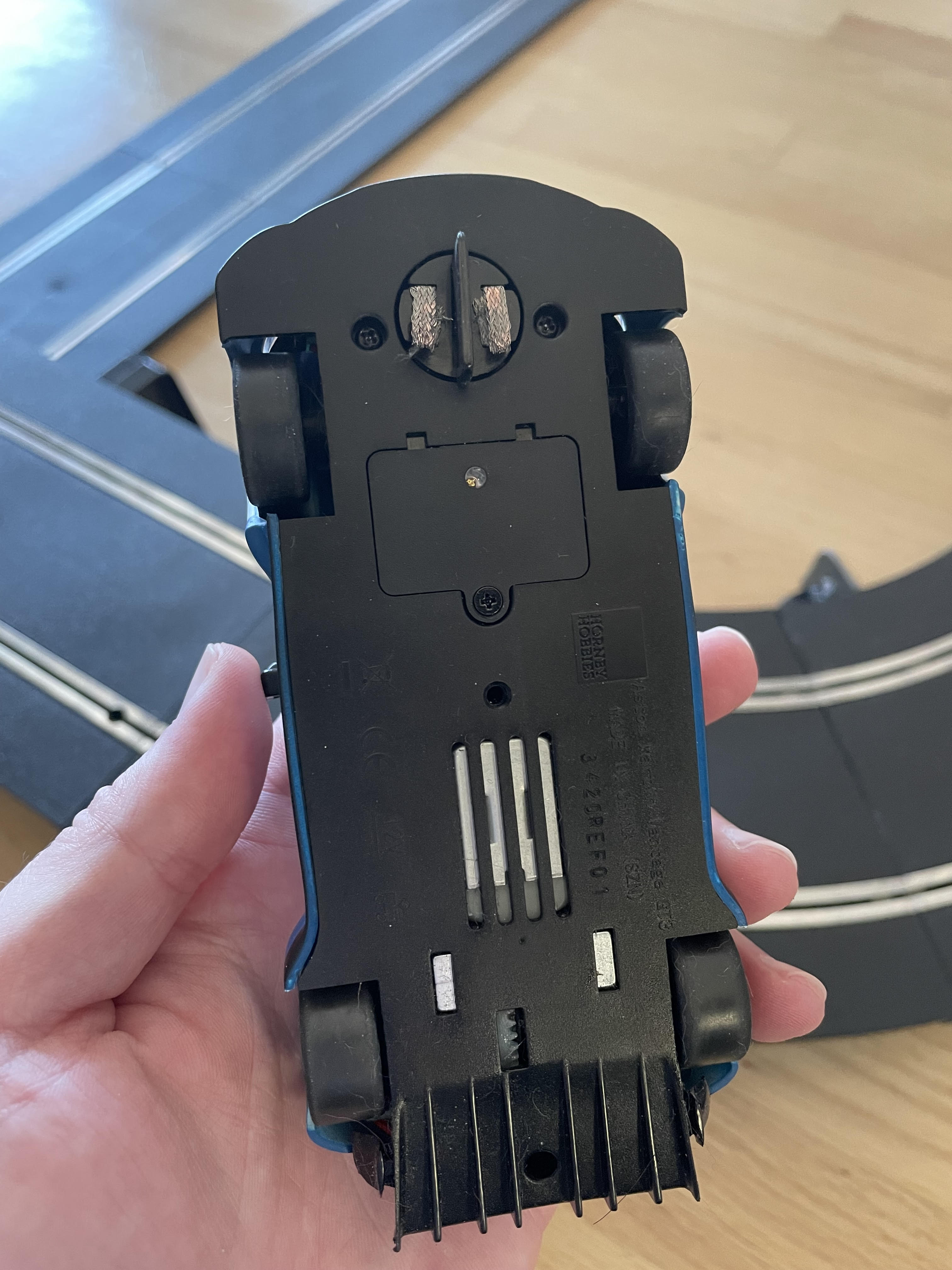 We're all having a great time building tracks and racing each other for fun. The set does include an app though that will sync up with your set and allow you to hold actual races and events where the app keeps track of things like lap times and who is in what place. There are some fun options here like tracking fuel and tire wear. You can even simulate weather and other incidents like mechanical failures that require your car to pit. There is a lot here but I have to admit this is not an especially user friendly app. Syncing it with the cars and your specific track is sort of a pain. We've played with this slot car track every single day since Christmas but only really messed with the app once. It offers some cool stuff but right now it feels a bit undercooked. The good news is that it's not necessary to have a great time with these little cars. With a little bit of polish though I can see the app being a lot of fun. 
Kara with a sick drift! pic.twitter.com/MU4Ofw7W6W

— Gabe (@cwgabriel) December 29, 2021
There is another company out there doing digital slot car sets called Carerra. From the research I did they are also very highly rated. They offer the same 1:32 scale but the cars are not interchangeable. From what I understand they can be modified to work on each other's systems relatively easily but it does require some work. I've had a couple issues with my Scalextric set but overall I'm really happy with the purchase. Finding something that gets everyone in my family excited is no easy task but I nailed it this year. Noah at 11 loves racing the cars and Gabe at 17 does too but he also really likes taking them apart and seeing what makes them tick. Kara and I have spent the last couple nights racing each other after the kids are in bed and I can tell you she is by far the better driver. Hah, even right now as I type this I can hear Kara and Noah downstairs racing first thing in the morning. 
I get excited about toys and games and what I've discovered over the years is that part of the enjoyment of this stuff for me is sharing it with other people. I know I'm not the first person to discover Gunpla or slot cars but this stuff is new to me and I know it will be new to someone else. Hit me up on Twitter if you have any other questions about this set up!
-Gabe out