Even though I'm home this week, yesterday I was able to take control of the Ohmni Robot that is in the Child's Play booth at PAX East. I had a great time driving it around and meeting people but the real reason it's there is so that we can let kids in Children's Hospitals explore PAX!

I'm just going to go ahead and post the press release from Child's Play here because it gives all the details much better than I could.
-----------------------------------------------------------------------------
April 20th 2022 - Child's Play Charity teamed up with PAX to provide a unique experience for two hospitalized patients as PAX East is once again in person. For the first time during media hour Child's Play will accompany an Ohmni Robot on the showroom floor allowing hospitalized kids to experience PAX East.This is just one of many examples and ways donations from the gaming community are changing the patient experience.

Media Hour Ohmni Robot Experience, April 21st 9:00am - 10:00am
Max Williams a Pediatric Gaming Technology Specialist at Yale New Haven Children's Hospital originally funded by Child's Play Charity will be bedside with 19 year old patient Michael Welch who is a frequent flier at the hospital and suffers from pancreatitis. When sharing the opportunity with Michael he responded with "9:00am, YIKES. That's so early, are you sure this convention is for gamers?" Max describes Michael as a jokester. His favorite game is Horizon Zero Dawn. With being in and out of the hospital he and Max have built a special bond through their love of gaming. Nothing makes Max more happy than seeing kids' faces light up when he can talk deep cut anime with them, or min/maxing Stardew Valley profits or what weapon is best for Fortnite meta.

After Hours Ohmni Robot Experience, April 21st 6:00pm - 7:00pm
Garrett Goody & Forest Coyle are the dynamic duo of Pediatric Gaming Technology Specialists at Seattle Children's Hospital. Both positions were funded through grants from Child's Play Charity. Garrett will be at PAX East on the show floor in person and Forest will be with Seattle Children's patient Giovanni (Gio) who is 13 years old and currently battling Leukemia. Gio will operate the Ohmni Robot from his patient room.

Pediatric Gaming Technology Specialists
Child's Play is on the forefront of developing this new and impactful field of work inside children's hospitals. Child's Play Charity funded 38 capacity building grants for Pediatric Gaming Technology Specialists since 2017. This newly developed field not only engages with patients through gaming bedside, they create experiences through 3D printing, virtual visitation events for celebrities, comedians and lego robotics. In addition they help educate clinicians on the importance of gaming as a tool for distraction and coping for patients. Virtual reality, augmented reality and traditional gaming are used to get patients out of bed and moving on a daily basis while hospitalized.

Visit Us at Booth 11038 to learn more.
-----------------------------------------------------------------------------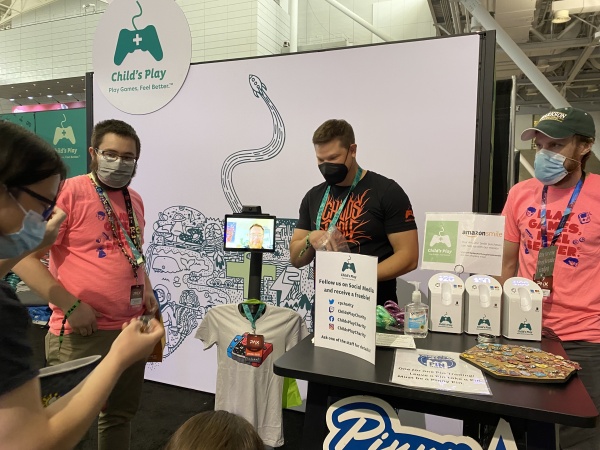 We are not supposed to drive it around the floor during show hours but I did take it for a little spin yesterday. I figured if I got in trouble I'd just log out! I made it all the way upstairs to the merch light booth but got stuck on some carpet and was discovered. I am going to jump back into the robot this afternoon at 1:30ET. I'll be hanging out in the Child's Play booth trading pins if you'd like to come by and see the technology. You can also chat with some of our Pediatric Gaming and Technology Specialists. These Game Tech positions are something that Child's Play pioneered to make sure that not only do hospitals get the technology they need, but they also get the people who know what to do with it.

So stop by booth 11038 at 1:30ET today to say hi, get your picture taken with "me" and learn more about what Child's Play does!

-Gabe out