I really like getting new consoles and that has been the case since this photo was taken.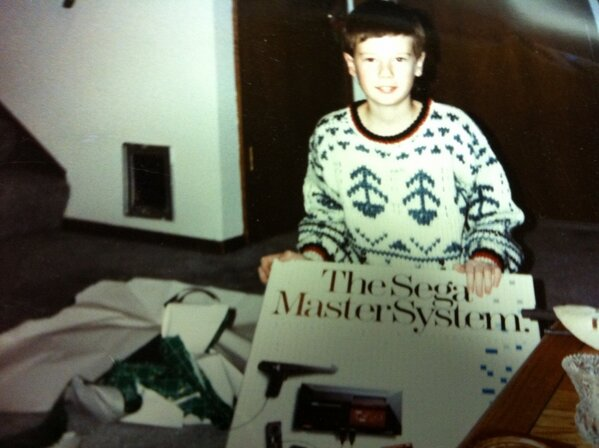 I have skipped school, camped out overnight in the freezing cold and driven countless hours over the years to get new consoles when they come out. I couldn't tell you why I do this but I've been in enough of these midnight lines to know that I am not the only one suffering from this affliction. It doesn't matter what the launch titles are and it doesn't matter what the reviewers say. I like unboxing it, setting it up and just generally messing with it. I recognize this is not an especially healthy compulsion and acknowledge it is not an example of smart money management. But hey, it could be cocaine. 
I'd been watching eBay like a hawk for weeks with special attention paid to sellers near me. I found a person with no history on the platform who had relisted a PS5 a few times without being able to sell it. I assume like me, no one wanted to buy from someone without a rating and everyone just figured it was a scam. The price kept coming down each time it was relisted and eBay was telling me this seller lived within 15 minutes of me. So I reached out and explained that if they were willing to meet me in a local parking lot at the police station, I'd buy it for a little over retail but not much. They did not respond but after a relisting at $750 failed to get a buyer I received a message back. They took me up on my offer and the next morning at 10:00am we met (with masks on) in front of the police station. I figured if they were intent on murdering me this would at least make it tricky. 
It turns out it was not a murderer. It was just a 20 something kid in a black dodge charger who told me he got it at Gamestop. The PS5 was new in the box and he seemed like a normal dude. He told me he bought it and made an eBay account to resell it but didn't anticipate people not wanting to buy from a seller without any history. I think he was hoping to more than double his money quick and when that didn't happen he just wanted to get something for his trouble. At least, that is what I am telling myself while I play my awesome new PS5. 
I've been able to play the series X and the PS5 for a while now and both are great systems. Here's a quick run down of my thoughts so far. 
-I much prefer the PS5 UI, it is sleek, beautiful and snappy. It has a high level demarcation between games and media that is a big improvement over the PS4. Meanwhile I don't know if Microsoft can ever escape from the grid design invented by Windows 8. 
-After playing on the PS5 for a bit I immediately missed the "instant on" functionality from the Series X. Being able to switch between multiple games without having to reload them feels truly next gen. 
-The PS5 controller and it's fancy vibration are actually pretty slick depending on what game you play. In Astro's Playroom it has some neat buzzes and bumps but they mostly just play game audio through it very loud. In Godfall each weapon feels unique thanks to the feedback in the triggers and the vibration. There's actually a band of game data being communicated via the controller that I wasn't getting when I played on PC. 
-I suck at Dark Souls games and I should not play them.
-The PS5 is comically large. It is stupidly big and heavy and it does not fit on the shelves below my television. It has to sit on the floor next to my TV stand like another piece of furniture. With that said, it is at least pretty.
-While neither system had any killer launch titles the Series X along with a Gamepass subscription offered a significant library of cool games to play a number of which had been updated for the Series X. On the PS5 I have a solid library of backwards compatible titles I have purchased and can redownload but few if any seem to take advantage of the PS5. 
-Both systems seem to run cross platform titles equally well. Games like AC: Valhalla and Destiny 2 both load fast and look beautiful on the PS5 and the Series X. Dirt 5 looks great on both but the Dualsense feedback on the PS5 makes playing it there more fun in my opinion. I think going forward clever use of that functionality could set PS5 version of cross platform games apart but it's hard to say right now. 
-My wife is very understanding. 
-The PS5 is still pretty buggy compared to the Series X. I have had issues with Wi-Fi cutting out, games crashing and just general instability that require adjustments to the settings or restarts to fix. 
That's all I've got for now. This is the time of year I tend to go back and play old games again or look for stuff I missed. Today I think I'll check out the next gen patch that Star Wars: Fallen Order got. I also went back to Days Gone which now runs at 60FPS and looks incredible on the PS5. I'm trying to decide if it's finally time to play the Last of Us 2. I loved the first one but it left me a sobbing mess at the end. I'll probably just end up putting another couple hours into Godfall. 
-Gabe out