I will be participating in an afternoon of fundraising for the Child's Play Charity this coming Sunday the 17th. The Penny Arcade iRacing League has arranged a couple of fun races for your enjoyment that should make you laugh and will hopefully raise some money for a very good cause!
Here are the details of our "races"

Race 1 (Roller Derby):
TLDR: 4 teams will compete for points, each team has a jammer in an F3 car who gains points by lapping all the opposing blockers, blockers are in trucks trying to prevent the enemy jammers from gaining points (without wrecking either car).

Leading off this day of fun, we're going to play a little Gabir Motors Roller Derby. There will be two classes of cars - Jammers (in Dallara F3's) who are attempting to score points, and Blockers (in Pro 2 Lites) out to create mayhem and prevent points from being scored. Points are scored by lapping the field - your team's jammer must pass blockers on the opposing teams to score 1 point per blocker passed. Jammers can also opt to lock in their points before opposing jammers can score. Once a lock-in is called, a yellow flag will come out, freezing the field. These yellows will be shortened to as quick as possible to get the action running again. Damage will be off, car contact is expected and encouraged. However, actively blocking the track by stopping will be penalized. You have to keep trying to move along the racing surface at a reasonable pace. Also, there is a difference between "blocking" and "wrecking" - the goal is to bang around and keep the jammers behind, not to necessarily destroy them. Door banging, swerving, etc, is fine - sending it into the front of the pack will be frowned upon. Teams will be randomly selected, as well as the roles that each person will play. Rules
Race 2 (Mini-endurance):
TLDR: A roughly hour long race full of mazdas, while Mike racecar and Scott have a Porsche with ~4 laps of fuel so we have to pit frequently, also we have to swap drivers during our pit stops!

The second race will be an hour-long mini-endurance race at Road America, with the cars chosen by Gabir Motors owner Gabir Liel! As a result, Gabir Motors superstar Mike Racecar will be driving a shiny new Porsche 911 GT3 R, and everyone else will be in Mazda MX-5s. Unfortunately, Mr. Liel equipped the Porsche with a tiny fuel cell to minimize the cost-per-fillup, and he forgot that Mike Racecar's contract has strict time limits on his behind-the-wheel time for non-points-paying events. As a result, Gabir Motors No. 2 driver Skiggity will be released from the Gabir Motors sub-basement for this race, and the two will have to pit the Porsche every 10 minutes or so and perform a driver change while trying to stay ahead of the unhindered MX-5 pack. (This will also give Mike Krahulik time to do charity things during the race.) The Gabir Motors Porsche 911 GT3 R will be wearing a Wild Card livery in honor of the Draw 4 Charity theme, and we encourage all the MX-5 participants to cook up a fun livery that shows their love of games, charity, or whatever!
These sound like a lot of fun and the Twitch streaming will begin Sunday July 17th at 2PT. Here is the full Draw 4 Charity schedule so can check out all the awesome fundraising efforts this weekend!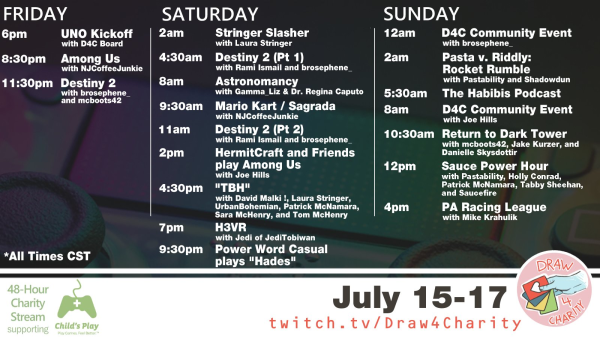 See you in the Pit Crew on Sunday over on the Draw4Charity Twitch channel!
-Gabe out